LIFE GySTRA project takes part in Barcelona in the international LIFE Platform Meeting on Air Quality: abating urban exposure to air pollutants took place in Barcelona, an event organized by LIFE AIRUSE (Testing and Develpment of air quality mitigation measures in Southern Europe) and LIFE IMPROVE (Implementing Methodologies and Practices to Reduce Air Pollution of the Subway EnVironmEnt), coordinated by the IDAEA-CSIC, in collaboration with the European Commission (Directorate General for the Environment (DG ENV) and the Executive Agency for Small and Medium Enterprises (EASME)).
Dolores Hidalgo, researcher from CARTIF and the project coordinator, has summerized the objectives and main actions of the project, in the session dedicated to the projects oriented to air quality management tools ('Models and tools for air quality management')
Other interesting strategies and measures to be adopted in the future to achieve a substantial improvement of the quality of the air in the cities were discussed in this international meeting.
Arrival of the attendees to the event.
Presentation of the LIFE program by Mario Lionetti, EASME.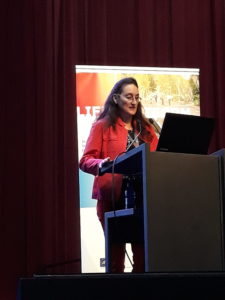 Dolores Hidalgo (CARTIF) during the presentation of the LIFE GySTRA project.
The air quality, under discussion in Barcelona